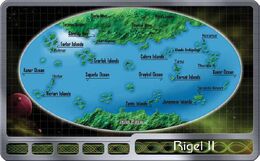 Rigel II is the second planet in the Rigel system and a Terran Federation colony world.
The Uk'leans settled on Rigel II thousands of years prior to the Scramble for Rigel. The planet was settled to serve as a resort world for the elite of the Uk'lean government.
During the Great Exodus, Rigel II was settled by the Terran Federation.
Locations
Edit
Oceans and seas
Edit
Geography
Edit
Points of Interest
Edit
Natural History
Edit